DSF/MFT Viewer
Features
This program is DirectShow Filter (DSF) and Media Foundation Transform (MFT) Viewer, and it has the following features.
List of registered DirectShow Filter and Media Foundation Transform
Display informations and supported media types
Change the merit value (priority) of DirectShow filter
Register and unregister with the system
System Requirements
About Software
This software is freeware (Donations Welcome).
By downloading, installing and/or using this software, You will be deemed to have accepted this License Agreement.
The files are checked in advance to make sure they are safe. If your security software detects it incorrectly, please add the file as an exception.
Screenshot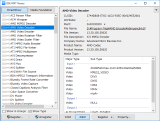 How to use
Left side of form

List of DirectShow filters (DSF) or Media Foundation Transforms (MFT) registered in the system.

When turn on the "Show in Groups", DSF or MFT is displayed in the following groups.

MFT

Audio Decoder
Audio Effect
Audio Encoder
Video Decoder
Video Effect
Video Encoder
Video Processor
Demultiplexer
Multiplexer
Other
Encryptor

When turn on the "Show Type", the list view shows whether the DSF/MFT is 32bit or 64bit.

Right side of form

Displays the following informations of the selected DSF or MFT.

CLSID
Attribute
Merit
File Name
File Version
File Desctiption
Company Name
Product Name
Product Version
Supported Media Type

About MFT attribute

"Hardware" means MFT is hardware MFT. "Transcode Only" means MFT is optimized for transcoding.

Get File Info

This button is displayed when need administrator rights to get informations.

32bit/64bit

Switches the bit type of the displayed information.

Property

Displays the properties of the selected DSF.

Register and Unregister

Register or unregister DSF/MFT.

Preferred DSF/MFT

Displays a list of DSFs and MFTs that are set to be used preferentially by the system.
Changes
Version 1.8.2 (05/17/2020)
Version 1.8.1 (05/10/2020)
Version 1.8.0 (01/06/2019)
Added support to check dll information about the following MFT in Windows10 Version 1809

AV1 Video Extension
HEIF Image Extension
VP9 Video Extension
Webp Image Extension

Added some subtype names
Minor changes and fixes
Version 1.7.1
Fixed issue on WindowsVista
Version 1.7.0
Added support to check information about HEVC Video Extension and MPEG2 Video Extension
Added some subtype names
Changed system requirements
Discontinued support for WindowsXP
Minor changes
Version 1.6.2
Fixed setting file loading issue under specific conditions
Version 1.6.1
Version 1.6.0
Added "Encryptor" in MFT category
Added some subtype names
Minor changes
Version 1.5.0
Added "Product Version"
Minor changes
History
Donation
DSF/MFT Viewer is free software. However, I'd gladly accept your donation. You can donate via PayPal (Credit Card).
Download